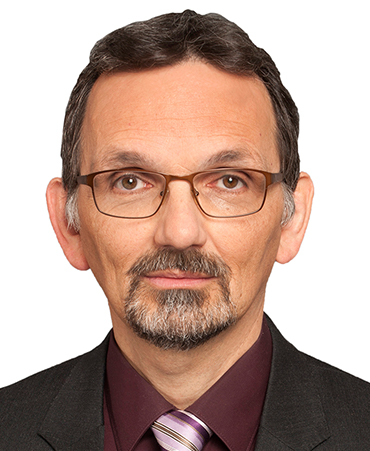 "Thinking? Yes, but also thinking ahead!"
Focus of work
Applied innovation research, innovation and policy consulting on high-technology topics (information and communication technologies, especially digital technologies and their applications, system technologies, system integration, Internet of Things).
Analysis of barriers to innovation; conception, coordination and implementation of measures supporting innovation processes
Questions of competence development in hightech sectors
Evaluation of state funding programmes and support measures

Curriculum vitae
After his 2nd state examination in physics and sports, Alfons Botthof worked in software development and as a trainer for communication electronics technicians before becoming a research associate at the VDI/VDE-IT in 1988 and, with the founding of the Institute for Innovation and Technology (iit), also of the iit. Mr. Botthof is head of the Society and Innovation Division of the VDI/VDE-IT, focusing on "Artificial Intelligence and Future Technologies", "Transfer and Transformation, Social Innovations", "Analysis and Shaping of Digital Change", "Innovation Policy, Evaluation and Monitoring", "Foundation, Business Models, Innovation Ecosystems" and "Project Management". He is currently responsible for the VDI/VDE-IT project management "Promotion of Leap Innovations" on behalf of the Federal Ministry of Education and Research (BMBF). Previously, he was in charge of accompanying research projects for technology programmes for small and medium-sized enterprises such as "Autonomics for Industry 4.0", "Autonomous Systems" and "Internet of Things". Furthermore, he supports the BMBF in working on strategic topics within the framework of the project sponsorships "Innovation Policy, Science Analysis and Communication, Data and Analysis Foundations for Education, Research, Strategy" and "Digital Change in Education, Science and Research".
Apt, Wenke;
Botthof, Alfons
;
Bovenschulte, Marc
;
Dwertmann, Anne
; Ferdinand, Jan-Peter;
Gabriel, Peter
; Katrin Gaßner;
Hartmann, Ernst Andreas
; Kappel, Marcel; Kirste, Moritz; Krumm, Stephan;
Krune, Edgar
;
Lutze, Maxie
; Mah, Dana-Kristin;
Otto, Stephan
; Paulicke, Prisca; Priesack, Kai;
Rohde, Marieke
; Schmalz, Antonia;
Schürholz, Markus
;
Spitzner, Eike-Christian
;
Stubbe, Julian
; Thielicke, Robert; Waldburger, Martin;
Wangler, Leo
;
Wessels, Jan
; Wilsch, Benjamin;
Wischmann, Steffen
;
Zinke, Guido
;
Mangelsdorf, Axel
;
Büching, Corinne
(2018):
Künstliche Intelligenz. Technologie – Anwendung – Gesellschaft